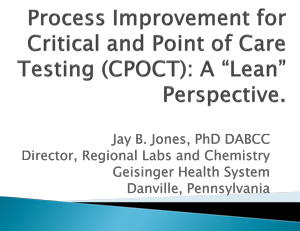 Summary: Analyzing the entire clinical process that point of care testing supports frequently discloses room for efficiency improvement. The "Lean" movement offers a framework for doing this process analysis. Electronic integration of POCT into the clinical process is a growing for "lean" process analysis. Two examples (outpatient coag clinic and cardiovascular OR blood gases) will be shared showing how a entire clinical process can be "leaned" with up front process analysis.
Objectives:
1) Cite 5 examples of how POCT is innately "lean"
2) Describe the growing importance of the user/IT interface in efficient clinical process design
3) State the importance of assessing the entire clinical process before installing POCT
---

About the Speaker: Dr. Jay B. Jones, Ph.D., DABCC has served as the Director, Geisinger Regional Laboratories since 1985 and the Director, Ancillary Testing Program for Geisinger Medical Center's Division of Laboratory Medicine since 1992. Concurrently, he has also held the position of Director, Chemistry and Toxicology since 1981. Prior to his current duties, Dr. Jones worked in the Special Chemistry Section of Georgetown University Medical Center; the Laboratory of Chemistry at the University of Southern California; the Section on Intermediary Metabolism and Bioenergetics, National Heart, Lung, and Blood Institute at the National Institute of Health (1970-1978); and as part of the Commissioned Officer's Training and Extern Program (C.O.S.T.E.P.) with the National Institute of Arthritis and Metabolic Diseases. Dr. Jones currently chairs the Provider Review Committee, Industrial In Vitro Diagnostics Connectivity Consortium (IICC). He has also chaired the Laboratory Information Systems and Medical Informatics Division (LISMI) of American Association for Clinical Chemistry (2001-2004). Additionally, he has served as a member of the Program Coordinating Council (PCC), American Association for Clinical Chemistry (AACC); National Committee Clinical Laboratory Standards (NCCLS) Area Committee on Laboratory Automation, working group on Point-of-Care Testing Connectivity (POCT1-A); Connectivity Industrial Consortium (CIC), Point-of-Care Testing Connectivity; and as AACC liaison, American National Standards Institute, Healthcare Informatics Standards Board (ANSI/HISB). After receiving his B.S. from the University of Maryland in Microbiology, Dr. Jones earned his Ph.D. in Biochemistry from George Washington University. He completed postdoctoral fellowships in biochemistry at the University of Southern California (1978-1979) and Clinical Chemistry at Georgetown University Medical Center (Martin Rubin, Ph.D., 1979-1980). He is a diplomate of the American Board of Clinical Chemistry.
---
This web meeting was provided with financial support from:
Radiometer; MAS; Siemens
This web event is produced by Whitehat Communication, in cooperation with Point of Care.net