Developing and Maintaining a
Point-of-Care Testing Program Webinar

Thursday, July 21, 2011
Speaker: Jim Nichols, Ph.D., DABCC, FACB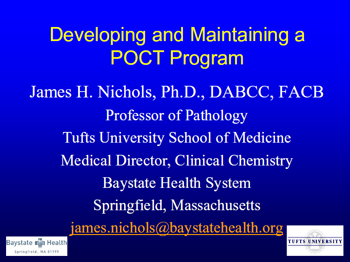 View the slides Ι Listen to the recording
Summary: This presentation discussed the role of a POCT program in maintaining the quality of test results, organizing staff and devices into a system, and acting as a resource for improving outcomes through integration of POCT into patient care.
Objectives: After viewing this webinar, youwill be able to:
Define POCT

Examine quality concerns with POCT

Discuss the role of a POCT program in maintaining quality

Offer tips for managing POCT

Review resources for POC Coordinators
Sponsors: Alere; Eurotrol; Medical Automation Systems; Siemens
---

About our Presenter: Jim Nichols is a Professor of Pathology at Tufts University School of Medicine and Medical Director, Clinical Chemistry
for Bay State Health in Springfield, MA. Jim is responsible for Clinical Chemistry including core automated chemistry, immunoassay, endocrinology, toxicology/therapeutic drug analysis, estoteric and point of care testing conducted through Bay State Reference Laboratories, one of America's largest hospital-based outreach programs. Dr. Nichols' research interests span evidence-based medicine, information management, laboratory automation, point-of-care testing and toxicology.