The CFPOC Network was pleased to provide this webinar, presented by CLSI's Barbara Goldsmith, PhD, FACB, on Friday, March 11, 2011 from 1-3pm to dozens of POCCs in Florida as well as throughout the country. We also made this webinar available for those attending the Florida Society of Clinical Laboratory Science (FSCLS) 2011 Spring Symposium at the University of Central Florida in Orlando!
View the slides: Due to the large size of the presentation, we have divided it into sections.

Listen to the recording - click here
Summary: Since its inception, point-of-care testing (POCT) has been an area of growth, controversy, and challenges. In some environments, POCT has offered solutions to turnaround time and laboratory work staff shortages while in others it has challenged laboratories to be responsible for laboratory testing performed in a variety of sites outside of the laboratory by non-laboratory trained personnel. This talk will cover a few examples of POCT clinical applications. Guidelines available to assist POCT programs will also be discussed.
Objectives: After viewing this webinar, attendees will be able to:
Review background material regarding the growth and rationale for POCT

Explain currently expanding areas of POCT, such as coagulation, and provide knowledge regarding specific limitations of POCT.

Be acquainted with existing Guidelines to assist with implementation and validation of POCT
Vendor Sponsors:
---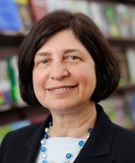 About our Presenter: Barbara Goldsmith, Ph.D., FABCC is the Vice President of Marketing, Membership, and Education at the Clinical and Laboratory Standards Institute (CLSI). Her previous positions included Vice President, Laboratory Services at Caritas Christi Health Care, a six-hospital system, Director of Laboratory Services at EXCELL Clinical Laboratories/St. Elizabeth's Medical Center and the Medical Director for Caritas Medical Laboratories in Boston, MA. She has served as the Director of large multi-hospital POC programs. Dr. Goldsmith obtained her B.S. degree from William Smith College and her Ph.D. in Clinical Chemistry in the Department of Pathology at the Medical College of Virginia, Virginia Commonwealth University. Dr. Goldsmith is the Past President of AACC and has been an active member for over 25 years and has held a number of national positions. Dr. Goldsmith has been active in professional activities outside of AACC, including appointments on CLIAC (CDC), the Clinical Chemistry and Toxicology Advisory Panel to the FDA, and the Institute for Quality Laboratory Medicine (IQLM). She was CLSI Chairholder for the Point-of-Care Testing Subcommittee, which produced the first guidance document in POCT. Dr. Goldsmith has received several awards, including the Canadian Society for Clinical Chemistry (CSCC) Traveling Lectureship Award and recognition for Outstanding Contributions to Pediatric Clinical Chemistry.
---