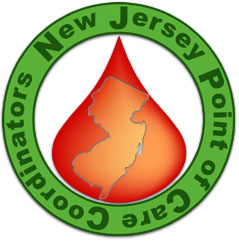 Welcome to the New Jersey Point-of-Care Coordinators

Join us on Tuesday June 30th, 2009
from 9:00 AM to 2:30 PM
for our Next Meeting
AGENDA I LEARNING OBJECTIVES I RSVP I Directions
Hosted by CentraState Medical Center
901 W. Main Street, Freehold, NJ 07728
(732) 431-2000
Sponsored by:

Our meeting will be in the Star and Barry Tobias Ambulatory Campus.
Please park in the North Parking lot behind the Ambulatory Campus.
The meeting will be in the Conference Center next to the Fitness and Wellness Center.
9:00 AM

Registration and HOT Breakfast

Provided by IL

9:20 AM

Welcome

Mohamed Abd-Rabouh M.T. (ASCP)

9:30 AM

Surviving Sepsis

John J. Ancy, MA,RRT

Senior Clinical Consultant

Instrumentation Laboratory

10:30 AM

Break

10:45 AM

IL Presentation.

Maxine Eisenstat

11:30 AM

Lunch

Provided by IL

12:00 PM

Tour to the Tobias Ambulatory Campus**

Stephanie O'Neil, RN

12:30 PM

Joint Commission Survey of Point of Care Testing

Judy Gabriel (MS);

Joint Commission Surveyor, and trained under Accreditation Manual for Pathology and Clinical Laboratory.

2:00 PM

Round-Table

Mohamed Abd-Rabouh M.T. (ASCP)

2:15 PM

Wrap up

**Also in the Ambulatory Campus is the Health Awareness Center for CentraState. I asked our host Donna Smith if we can take a quick 15 - 30 minute tour after lunch, it is amazing.
Learning Objectives

"Surviving Sepsis" Presentation:

Understand the definitions for SIRS, Sepsis, Severe Sepsis and Septic Shock

Comprehend the pathophysiology of sepsis

Know the epidemiology of sepsis

Have an awareness of the Surviving Sepsis Guidelines

"Joint Commission Survey of Point of Care Testing" Presentation:

To have a clear understanding of the survey process (tracer methodology)

To know what resources are available for help with compliance and

To learn some examples of situations to avoid.

RSVP to Mohamed by June 26, 2009
---
Last updated: 10/07/2009 Questions or corrections: My Point of Care.net Point of Care.net Home