IN CASE YOU MISSED IT...
OR WANT A COPY OF THE SLIDES FROM:
"Implementing Point of Care Testing to Improve Patient Outcomes in the ED"
Tuesday, March 29, 2011
Presented by Kent Lewandrowski, M.D.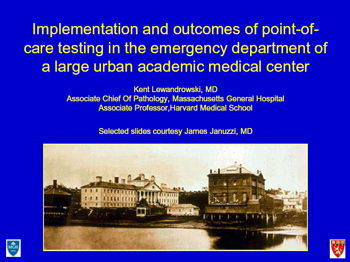 View the slides I Listen and view the webinar
Summary: This presentation reviewed studies relating to point of care testing (POCT) in the emergency department (ED) with an emphasis on the impact of POCT on outcomes in the ED. Specific topics will include cardiac markers, natriuretic peptides, drugs of abuse and D-dimer testing.
Objectives: After viewing this webinar, attendees will be able to:
Describe the classification of outcomes including medical, financial, and outcomes relating to hospital operations

Describe different models for performing POCT in the ED

Describe different tests that have been shown to improve outcomes in the ED
Vendor Sponsors:
---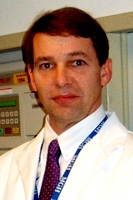 About our Presenter: Kent Lewandrowski, M.D. is the Director of Clinical Services (Anatomic and Clinical Pathology) and Associate Chief of Pathology at the Massachusetts General Hospital. He is an Associate Professor at Harvard Medical School with research interests in pancreatic pathology and the evaluation of point-of-care technologies. Dr. Lewandrowski was trained in anatomic and clinical pathology at the Massachusetts General Hospital and has been on the staff of the department of Pathology since 1991. He is also editor in chief of the medical journal "Point of Care: The Journal of Near Patient Testing Technology".