The business meeting included a treasurers' report as follows:
---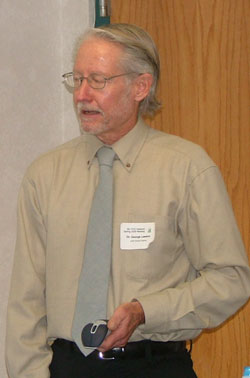 Guest Speaker: Dr. George Lawson (credentials listed)
B.S. in Chemistry, Duke University, Durham, NC

U.S.M.C.

M.S. and Ph.D. in Biochemistry, University of California at Berkley

Research Fellowships at: Baylor College of Medicine, Houston, TX and Mayo Clinic, Rochester, MN

Director of Chemistry Laboratory / Clinical Chemist at Wesley Long Community Hospital, Greensboro, NC

Roche Biomedical Laboratory (LabCorp)

Medical Faculty, Dept of Laboratory Medicine and Pathology

Director of Lipids and Lipoproteins Laboratory

Director of Toxicology Laboratory , Mayo Clinic -- 10 year

Independent Technical Writer
Morning Session:
We were very fortunate to have an extremely knowledgeable speaker for our conference. Dr. George Lawson presented "Cholesterol as Risk Factor For Coronary Heart Disease: Historical Past, Present, and Possible Future Directions".
Despite many years of valuable research, heart disease still remains a very costly, widespread, and a deadly problem. Scientists and many drug companies are feverishly working to solve this problem. And as Dr. Lawson explained, many studies set out to prove which risk factors contribute the most to CHD and how to treat them.
---
Lunch Break:
Tim Leahy from Lifescan provided lunch along with a weblink with valuable information
Click here for a PDF of links for POCCs.
---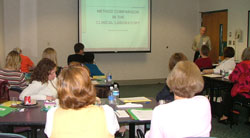 Afternoon Session:
Our afternoon session was measurably informative as well. Dr. Lawson provided extensive background regarding method comparisons in the clinical laboratory.
Remember "R" values, accuracy, precision, slope, intercept, coefficient of variation? NO? Don't worry, you are not alone. What a great refresher for those of us who needed it.
---
Next Meeting:
We look forward to our Fall meeting:
Friday October 16th

WakeMed Cary Hospital (just outside of Raleigh)

This is the first Friday of the NC State Fair, so why not stay and play?