"Point of Care Testing
and CAP Accreditation"
Friday, October 13, 2006
Forsyth Medical Center, Winston-Salem NC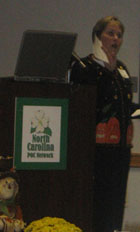 The fall meeting of the NC Point of Care Coordinators Network featured "Preparing POCT for a CAP Accreditation Inspection" and "What's New at CAP". Joyce Bowers and Britt Weaver, Point of Care Coordinators at Forsyth Medical Center, and Annette Miller, POC Consultant for Novant Heath, hosted the meeting. The meeting was attended by 27 of our members and was featured a Halloween theme decor.
Joyce Bowers welcomed us to the meeting and thanked everyone that helped with the planning and the arrangements. She also reminded us that all of this was made possible only through the generous support of our vendors. We are very appreciative!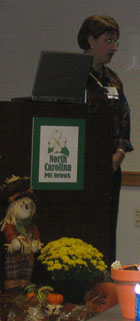 Susan Hayworth, FMC Lab Director, also welcomed us to the meeting and to Forsyth Medical Center. She urged us to always embrace change and to learn from the experience.
Debra Norkett, the Point of Care Coordinator from Northeast Medical Center and our NC POC Network President, lead the business portion our meeting. Deb stressed that one of the strongest aspects of our NC POC Network is the opportunity for networking with our peers. We were then introduced to some of our newest members. As an FYI, we will be accepting nominations in the spring for our new officers. Please be thinking about anyone you feel you would like to see as an officer for the NC POC Network. Also, an updated list of our members was distributed. Sherry Gant will continue to keep these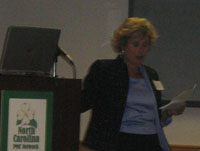 updated and will send out a new list in the near future. The 2006 spring meeting will be hosted by Marlene Williams, Point of Care Coordinator at Presbyterian Hospital in Charlotte, NC. Members were asked to submit any ideas they have for future education topics.
Kim Ballister and Sheila Cruthis, POCCs for Moses Cone Memorial Hopsital, presented a brief Treasurer's Report updating us on the status of our finances. They are continuing to collect the 2006 member dues of $10.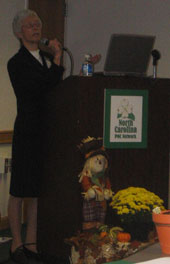 Our first speaker was Susan Donatell, Inspection Specialist from CAP. Susan spoke on the topic, "Preparing POCT for a CAP Accreditation Inspection." This session focused on the CAP accreditation requirements for Point of Care Testing, including changes to the POCT Inspection Checklist and the status of the Equivalent Quality Control. Requirements for validation of new methods, calibration and analytical measurement range were discussed. Best practices were shared. Susan helped us to understand the rationale behind the requirements and take home some practical examples of solutions and recommendations for improvement that can be implemented into our own POC programs.
Our second speaker, Karen Lackinger, Client Relations Manager for the College of American Pathologists, spoke on "What's New at CAP." Karen shared her knowledge and experience about the new CAP unannounced inspections. She gave us some helpful tips to use in preparation for the day for both the laboratories being inspected and the inspectors themselves.
Our fall meeting also included a very well-represented vendor fair. This was a terrific opportunity for us to network with many of the different vendors. We were able learn about new products and gain knowledge and ideas to bring back with us to use in our growing POC programs.
Throughout the day, there were lots of give-aways for everyone, such as gift cards, candy-filled pumpkins, and totes that converted to a knapsack, personalized for the NC POC Network.
Britt Weaver, FMC POC Coordinator, lead the fun, interactive game "POCT Challenge." The group broke off into teams and had a blast racing to answer Point of Care questions in the Jeopardy-type format. Great fun!
"Ask the Expert!" was our last educational session. Susan Donatell graciously answered all of our many questions and helped to also give us clarification on many various points in the POC checklist. This was an exceptionally informative part of the day.
Overall, it was definitely an excellent day. We need to give a big thanks to Joyce Bowers, Britt Weaver, and Annette Miller for a job well done!! Much appreciated!!
Sherry Gant,
Vice-President for the NC Point of Care Network
Point of Care Coordinator for Gaston Memorial Hospital