"NACB Evidence-based Practice of POCT"
is Now Available On-Demand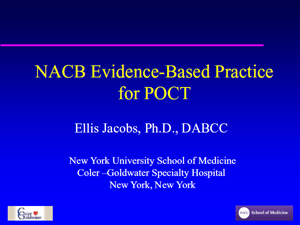 Listen to the recording I Download the slides
---
This webinar's presenter Ellis Jacobs, Ph.D., DABCC, FACB strongly believes there is a need for Evidence-Based POCT. Clinicians, staff and laboratorians need guidance in applying POCT in the most effective manner for patient benefit. This guidance should be based on a concurrence of the scientific evidence to date. The development and conclusions of the NACB (National Academy of Clinical Biochemistry's) Laboratory Medicine Practice Guideline – Evidence Based Practice for Point of Care Testing will be reviewed.
Objectives: After viewing this webinar, attendees will be able to:
Explain Evidence Based Medicine, the systematic review process, and the levels of evidence

Understand the need for the application of EBM to POCT

Give examples of where the use of POCT is not supported by an EBM review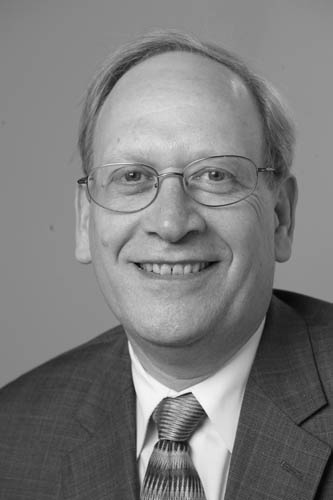 About our Speaker: Dr. Ellis Jacobs is Associate Professor of Pathology at NYU School of Medicine, Associate Director of Clinical Pathology of the South Manhattan Health Network, Director of Pathology at Coler-Goldwater Memorial Hospital and Director of Chemistry & Point of Care Testing at Bellevue Hospital Center. Dr. Jacobs obtained a B.S. degree in Chemistry and Natural Sciences from Muhlenberg College in Allentown, PA, in 1974, and received his Ph.D. in Biochemistry from the University of South Carolina in 1979. He completed postdoctoral training in Clinical Chemistry & Toxicology at the University of North Carolina, Chapel Hill in 1981. He joined the New York State (NYS) Department of Health (DOH) as the Director of the Clinical Laboratory Evaluation Program in 2002 and in 2005 was appointed Head of the NYS DOH Therapeutic Substance Monitoring and Clinical & Forensic Toxicology Proficiency Testing Programs, and Head of the NYS DOH Limited Service Laboratory Accreditation Program. He assumed his current positions in 2008.
---