September 12, 2019
Meeting at in Harrisburg/Hershey!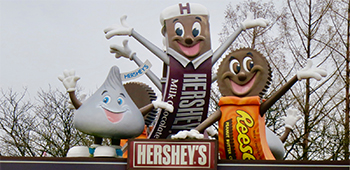 Join us at the Courtyard Harrisburg/Hershey
725 Eisenhower Blvd, Harrisburg, PA 17111

Agenda | Print PDF
800am
Registration and Breakfast
845am
Opening Remarks
900am
How to Build a Strong Lab Team
Milly Keeler BSMT (ASCP), CLC (AMT), CCCP®
CLIA Specialist/DoctorsManagement
Keeler Laboratory Consulting
1000am
Vendor Break
1030am

Vendor Presentation:
"Comprehensive POCT Management & Integration with Orchard Trellis"
Bruce Heitman

1045am
KEYPOCC Business Meeting
1115am
Lunch/Vendor Break
100pm

A Fresh Perspective on Point-of-Care Testing
Kim Futrell, MT(ASCP), MSHI
Product Marketing Manager
Orchard Software Corporation

130pm

CLSI Panel Discussion

"Demystifying the CLSI Document Process: The Life Cycle of a CLSI Document" Luann Ochs, MS

Objectives:

Learn more about CLSI and define what CLSI does for laboratory guidelines.
Learn who participates on a CLSI workgroup and how they write the guidelines.
Learn how to participate and be involved in the next CLSI workgroup.
Hear from past participants on what their experiences were like working on a guideline.
Learn how manufacturers use CLSI guidelines.
Discuss the process of how to update a CLSI document: Discuss challenges of connectivity from both the POCC and manufacturer perspectives.

Panelists:

Luann Ochs, MS, Product Development Manager, Clinical and Laboratory Standards Institute (CLSI)
Richard Noel, Global Product Manager, BioFire Diagnostics, LLLC
Kim Futrell, MT (ASCP), MSHI, Products Marketing Manager, Orchard Software Corporation
Kathy Nucifora, MPH, MT (ASCP), Director of Accreditation, COLA
Milly Keeler, BSMT (ASCP), CLC (AMT), CCCPA, CLIA Specialist/DoctorsManagement, Keeler Laboratory Consulting

Moderator:

Jeanne Mumford, MT (ASCP), Manager, POCT, Johns Hopkins Medicine; President, KEYPOCC

Bios
Luann Ochs is Product Development Manager for the Clinical and Laboratory Standards Institute (CLSI). Previously, Luann was the Senior Vice President of Operations at CLSI, before she decided to work from home. Prior to CLSI, Luann was at BD Diagnostics, where she was Vice President for Regulatory Affairs, Clinical Operations, and Quality Management. Ms. Ochs has also worked for Roche Diagnostics, Boehringer Mannheim Corporation, and American Monitor Corporation. She previously held volunteer positions with AdvaMed, the Center for Disease Control and Prevention's Clinical Laboratory Improvement Advisory Committee (CLIAC), the International Standards Organization (ISO), CLSI, and the Board of Directors of the American National Standards Institute. Ms. Ochs holds a master's degree in chemical pathology from Indiana University School of Medicine.

Milly Keeler BSMT (ASCP), CLC (AMT), CCCP® is a CLIA Specialist with DoctorsManagement and serves as a Laboratory Technical Consultant for DoctorsManagement Clients and with clients through her own company, Keeler Laboratory Consulting. Milly brings over 20 years of extensive knowledge and experience in multiple disciplines of laboratory testing having worked in a variety of healthcare settings including hospital, physician offices, urgent care facilities, and food service microbiology laboratories.

Ms. Keeler earned a BS degree from Edinboro University in Medical Technology with minors in chemistry and biology. She is Board Certified by American Society of Clinical Pathology and has been an associate member since 1995. She is a certified Clinical Laboratory Consultant through American Medical Technologists. Active as a board member for the Northwest Chapter CLMA (Clinical Laboratory Management Association) since 2009, she has joined the Active Response Team of CLMA. She and is passionate about laboratory testing and how it is a key contributor to quality patient outcomes.

Ms. Keeler has provided CLIA training for clients and professional organizations. Using her technical and operational expertise she specializes in working with laboratories to help them establish and perform laboratory testing that enhances the quality of patient care.

345pm
Closing Remarks/Adjourn
RSVP
Email

Thomas Jefferson University Hospital, Philadelphia, PA
lilah.evans@jefferson.edu


Directions
Door to Door

Courtyard Harrisburg/Hershey
725 Eisenhower Blvd
Harrisburg, PA 17111

For directions, click here.