On Thursday, October 11, 2018, KEYPOCC met at the The Bond in York, PA for a day of networking and tips on everyday challenges facing POCCs. Below is a recap of the talks as well as links to download slides.
---
Abbott's Dr. Ellis Jacobs was unable to join us due
to a shoulder injury but Jane Smith did a great job stepping in and leading a discussion on 'Molecular Diagnostics and POCT'.
In this talk, Jane discussed characteristics of various molecular POCT systems - and noted that all data in the presentation can be found in product labeling or
peer reviewed literature.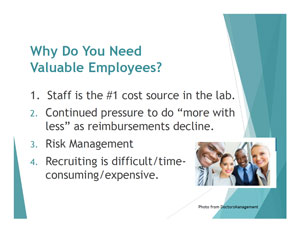 Milly Keeler then presented 'How to Create a Strong Lab Team' in which she highlighted how to seek out and hire employees who show integrity, optimism, generosity, loyalty, and the desire for continuous self improvement. To hire not only for trained skills, but for character. And engage your staff so they realize that what they do is important and makes a difference.
Jane Smith then returned to talk about
'The Ins and Outs of Training, Competency and Educational Requirements'.
In this discussion, Jane talked about training requirements, competency and educational requirements and addressed common asked questions.