Abbott Point of Care
400 College Road East
Princeton, NJ 08540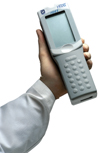 Corporate Description:
Abbott Point of Care develops, manufactures and markets the i-STAT System for bedside critical care testing.
The i-STATŪ 1 System...
Can perform cardiac (BNP, Troponin I, CK-MB), coagulation (ACTc, ACTk, PT/INR), blood gas, electrolyte and chemistry tests in a portable hand held system using single use cartridges.

Includes 18 different pre-configured cartridges that each automatically performs a 1 point calibration prior to analyzing patient samples. A workflow driven user interface, automated internal QC checks with each cartridge and highly configurable lockouts ensure ease of use for nurses, control for Point of Care Coordinators and high quality test results.

Can be interfaced through leading point of care data management vendors.

CLIA Status:
The i-STAT System is categorized as either Moderately Complex or Waived depending on cartridge type.
Cartridges
For detailed information on the i-STAT System single use cartridges click here.
i-STAT is a registered trademark of the Abbott Group of Companies in various jurisdictions