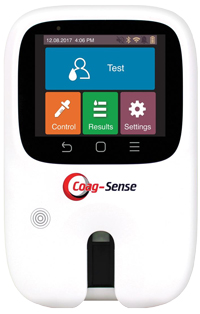 COMPANY DESCRIPTION:
Based in Fremont, California, Coag-Sense was founded in 2008 to bring more accurate and robust anticoagulation monitoring technology to both clinicians and patients. The company's lead product
is the Coag-Sense PT/INR Monitoring System, which incorporates a novel direct micromechanical clot-detection technology.
This proprietary technology emulates the World Health Organization (WHO) gold standard tilt-tube method while requiring only a very small blood sample. Direct clot-detection technology provides
clinicians with the system reliability they demand and patients with the comfort of knowing that proper home testing can provide dependable results like a laboratory.
In 2016, CoaguSense was acquired by i-SENS, Inc.—a leader in point-of-care diagnostic technology and manufacturing.
PRODUCT DESCRIPTION:
The Coag-Sense is the world´s most precise portable PT/INR monitoring system ever. Unmatched clinical performance using direct mechanical clot detection.
This simplistic approach to PT/INR testing has delivered a stellar clinical performance history since its introduction.
Now you can get direct clot detection PT/INR technology in a convenient device with state-of-the-art features including Wi-Fi, Bluetooth®, Near Field Communication (NFC), and an easy to read color touchscreen.