200 Prospect Street
Waltham, MA 02454
Phone: 800-458-5813 or 781-894-0800 (US)
800-263-5999 (Canada)
email: info@novabiomedical.com (US)
world@novabiomedical.com (International)
About Nova Biomedical
Nova Biomedical, incorporated in 1976, is a world leader in the development and manufacture of state-of-the-art whole blood chemistry analyzers. The Nova product line ranges from small single-test meters for glucose self-testing and hospital-based point of care testing to full critical-care whole blood analyzers designed for rapid measurement of over 20 analytes. Nova products are used by small, medium, and large hospitals worldwide to improve patient outcomes and reduce the cost of care.
Nova's StatStrip® Glucose Monitoring System accurately measures glucose while eliminating interferences from hematocrit, maltose, oxygen, acetaminophen, ascorbic acid, and a number of other common interfering substances. StatStrip's small 1.2-microliter sample volume allows for easy sample acquisition and virtually painless capillary sampling. Fast, 6-second test results and simple color touch screen operation make bedside glucose testing fast and easy.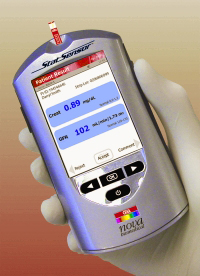 StatSensor® Creatinine with eGFR provides a simple 30-second assessment of renal function by finger prick capillary blood sampling at the point of care. This lightweight, handheld analyzer can minimize the risk of CMIN prior to the use of contrast media and eliminate workflow interruptions that can cause lost productivity in the radiology suite. StatSensor Creatinine offers easy, virtually painless capillary blood sampling on small, 1.2 microliter blood samples with fast, 30-second test results and interfaces seamlessly with hospital and laboratory information systems. Testing can be performed by radiology technicians or other non-laboratory personnel. StatSensor Creatinine calculates eGFR by either MDRD or Cockcroft-Gault equations and rapidly assesses renal function for inpatient or outpatient testing.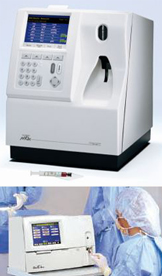 Nova Stat Profile® CCX and pHOx® blood gas, electrolyte, and chemistry analyzers are used in critical care, point-of-care, and stat testing. CCX analyzers measure up to 20 tests including blood gases, electrolytes, Hb, Hct, glucose, lactate, creatinine, BUN, tBil, and co-oximetry. They feature auto-calibration, fully-automated quality control, and automated maintenance. Nova's Stat Profile analyzers' comprehensive test menus and labor saving automation provide the best value in critical care testing.