Breakfast and Welcome
Following a French inspired breakfast sponsored by Belen Gonzalez from Pathfast, the November 6, 2015 meeting of the NCPOCN opened with a Welcome and 'Food for Thought', WakeMed Director of Pathology Laboratories, Michael Weinstein, MD, PhD.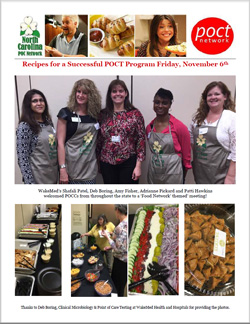 Click here or on the image above for more sights and scenes from our meeting.
Officer Elections
Our Business Meeting included Officer Elections with the following NCPOCN members voted in 2016:...
President - Tina Koonce

Vice President - Jennifer Parsons

Treasurers - Sheila Cruthis & Kim Ballister

Secretary - Adrianne Pickard
Presentation #1
Our first presentation was from Jane L. Smith MS MT(ASCP) SI, DLM, Technical Manager Scientific Affairs, Alere who lead an interactive discussion on "IQCPs: Let's Get Started…. Now!". Click here for a Jane's presentation.
Presentation #2
After a break to visit our vendor sponsors, Karen Jenkins, POCC, Emory Midtown Atlanta presented "You want me to do what? With them? And monitor it?" Challenges of implementing and monitoring a Point of Care Test! Click here for Karen's presentation

Lunch
A great 'Food Network' lunch included Mediterranean cuisine and was sponsored by Duane Yarborough from Alere... all that was missing was an appearance by Alton Brown, Giada De Laurentiis, Guy Fieri, Duff Goldman, Bobby Flay, Rachel Ray or other network chefs!

Presentation #3
After lunch, Marianne Pavia, Director of Infection Prevention, Employee Health and Lab Services
St. Mary's Hospital for Children led a presentation on "Breaking the Chain of Infection".

Thank you to all that attended and we look forward to seeing you at out next meeting!