On June 4, 2004, the Duke University Health System (DUHS) Point-of-Care (POC) Testing Program hosted the North Carolina POC Network meeting.
The largest meeting to be held by the network group so far, consisting of 90 NC POC Members and POC vendors from across North Carolina, South Carolina and Virginia, met at the Freeman Center for Jewish Life on the Duke University campus for the all day event. The theme of the meeting was"Compliance Tune-up and Vendor Fair".
The day began with welcoming comments from Dr. John Daly, followed by a brief overview of the POC Testing Program within Duke University Health System (DUHS) by Dr. Bruce Lobaugh.
Speakers and round table discussions covered compliance, accreditation, and regulatory guidelines.
Susan Avent, Sr. Clinical Quality Manager, Office of Accreditation and Regulatory Affairs at Duke Hospital presented "Out with the Old and In with the New" which detailed the new JCAHO Tracer Survey.

Karen Sanderson and Shannon Simpson from the NC Department of Health and Human Services/Division of Facility Services spoke on "What's New at CLIA?"

Mary Kennedy, Analytical Specialist, QI/Compliance, DUHS Clinical Laboratories led round table discussion groups on the new and revised College of American Pathologist POC and General checklist questions.
Nancy Smith conducted a brief business meeting. Officers were elected and they are as follows:
Chairperson:
Nancy Smith, Wake Medical Center

Vice Chairperson:
Debra Norkett, Northeast Medical Center

Secretary:
Pam Smith, Wake Medical Center

Treasurers:
Kim Ballister and Sheila Cruthis,
Moses Cone Memorial Hospital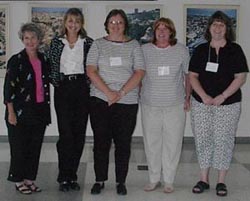 NCPOC Officers
The newly elected treasurers collected the agreed upon $10.00 annual dues. Members who did not pay dues at the meeting may submit fees via mail to Kim or Sheila at:
Future meeting sites were discussed for the Fall of 2004 and the Spring of 2005. The Fall 2004 meeting will be held at Rex Hospital in Raleigh, NC. Pam Hughes, POC coordinator for Rex Hospital, will coordinate the meeting.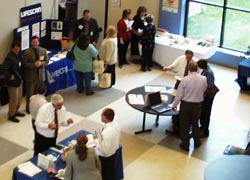 Vendors mingle before the rush
The vendor fair was a major hit at the meeting. Vendors from 14 manufacturers of POC test equipment demonstrated their technology and instrumentation.
Abbott


Diagnostics

Bayer – ABG Division
Bayer – Urine Products Div.
Beckman-
Coulter
Biosite


Diagnostics

Helena


Point of Care

Instrumentation Laboratory
ITC

J&J


Lifescan

Medical Automation Systems
Nova
Biomedical
Quality Assured Services, Inc.
Roche


Diagnostics
Telcor
Inc.
Vendor support of the NC POC Network allowed the meeting to be an awesome event full of good food, good conversation, great information sharing, and great raffle gifts. The raffle gifts included Portable DVD players, which went home with three lucky attendees. Each attendee received

a POC Network tote bag as a memento of the meeting.

A special thank you is extended to the 2004 planning committee members:

From DUHS:

From Durham Regional Hospital:

From Duke University Raleigh Hospital: