Lou Ann Wyer Named 2001 Point-of-Care Coordinator of the Year by the AACC POCT Division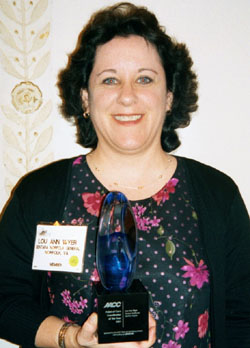 Lou Ann Wyer MT (ASCP)directs a team of 9.5 laboratory FTE's and 3000 Point-of-Care Testing (POCT) users at Sentara Healthcare.
Sentara Healthcare, recently named the Top Integrated Health Network in the United States, is the premiere healthcare provider in southeastern Virginia and northeastern North Carolina, operating more than 70 care giving sites; including six hospitals, three outpatient health care campuses, 7 nursing centers, 3 assisted living centers, 38 primary care practices, a full range of health coverage plans, home health and hospice services, physical therapy and rehabilitation services, ground and air medical transport services, mobile diagnostic vans, and fitness facilities.
A Clinical Specialist for POCT and Quality Management since 1996, Lou Ann has overseen the growth of POCT through laboratory integration and system expansions. Her program now encompasses 185 glucose meters, 100 handheld blood gas and electrolyte instruments, 25 ACT instruments, as well as rapid coagulation testing, and numerous manual POC tests. She provides technical expertise for POCT system processes, instrumentation, quality outcomes, accreditation issues and the development of new programs. In July 2000, the Sentara Warfarin monitoring program was chosen by the Van Slyke Society to receive a grant for Outcome Measurements in POCT.
A native New Yorker, Lou Ann is a graduate of Rochester Institute of Technology. Along her journey, she has been an active member of CLMA serving as the Tidewater chapter Newsletter Editor, Secretary, Vice President and currently as President. She was a speaker in the AACC's POCT Audio Conference this past January on Quality Control. She also has presented at the state, regional and national level on POCT. Lou Ann has had POCT articles in Vantage Point, Advance for Administrators, Advance for Medical Laboratory Professionals and Clinical Laboratory News. She was selected to participate in the CIC user's group meeting last fall and has been involved with other user's group meetings for several manufacturers. She is currently spearheading efforts to organize the Virginia area's POCT Coordinators group.
The numerous letters in support of her nomination came from all facets of laboratory medicine. From front line nurses, to health care system administrators, to several different manufacturers. Without fail, all praised her professionalism and unfailing willingness to share her knowledge with all that ask. The impact Lou Ann has had on all who come in contact with her on how POCT programs can and should be run has advanced this field in innumerable ways. She truly reflects on what is best in POCT.