Karen Jenkins Named 2013 POCC of the Year!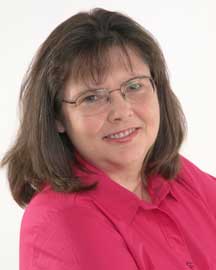 The CPOCT Awards Committee has announced that Karen Jenkins, MT(ASCP), POCC(AACC), is the 2013 recipient of the Point-of-Care Coordinator of the Year Award. Karen will receive her award during the AACC CPOCT Division meeting on July 30th in Houston.
Karen Jenkins, MT(ASCP), POCC(AACC) was born in Louisiana, attended University of Southwestern Louisiana in Lafayette, Louisiana, received a degree in Medical Technology and worked at a local hospital until 1988 when she married and moved to Atlanta, Georgia.
Karen worked in reagent manufacturing for six months, but then decided to return to the hospital setting and was employed by Piedmont Hospital for 10 years. For 7 years, Karen worked in the chemistry department and in 1995, became the first Point-of-Care Coordinator at Piedmont Hospital. During her time at Piedmont, Karen developed quality assurance programs, quality control review programs, orientation / skills fairs programs, upgraded glucose meters, performed inspections and was inspected many times. She was responsible for linearity and correlations on instruments and maintenance on the instruments.
In 1998, Karen had the pleasure of joining Emory Healthcare as Point-of-Care Coordinator overseeing 5 hospitals and many clinics. She worked with Laboratory Administration to add to the Point-of-Care Department and currently works with 6 other Point-of-Care Coordinators managing approximately 1800 beds, 50 POC licenses and over 1 million glucose tests annually. Other tests performed at Emory Healthcare include ABG, ACT, AVOX, INR, Creat, Hemocue Hemoglobin, Manual Urine Testing, Amnio Swab, etc.
Karen has participated in many State of Georgia, CAP and TJC inspections and in conjunction with nursing, developed Inspection Readiness Checklists. She has also developed Quality Assurance and Performance Improvement programs for all Point-of-Care Testing.
Through teamwork with the nursing staff, Karen and the Point-of-Care team have been able to help streamline workflows by adding POC testing where appropriate. Karen has worked with the Education Department on the Glucose Orientation Program for new employees and student nurses. She also assisted in development of curriculum for the Medical Technology Program.
Other duties include evaluation and recommendation of new or changes in POC methodologies, procedure development (with Nursing Team input), implementation of new or changed methodologies and is responsible for monitoring all aspects of Point-of-Care Testing.
She is the Database Coordinator and is responsible for computer validations and database builds. Training POC staff on new programs is also part of Karen's responsibility.
Karen was a founding member of the Georgia Point-of-Care Network. This Network has had several successful meetings around Georgia on topics such as State of Georgia, CAP and The Joint Commission Regulations, Charging / Billing for Point-of-Care Testing, Communication Skills for the Point-of-Care Coordinator and Coagulation Testing Basics.
In 2012, Karen was part of a group that discovered issues with barcodes printed on patient armbands scanning incorrectly. After extensive testing, changes were made to the orientation of the barcode with success. This process was documented and published in Clinical Chemistry.
Memberships include AACC, AACC Southeast Section Past – Chair, AACC POCC Forum (July 2011), Emory Healthcare Laboratory Advisory Committee, Point-of-Care Advisory Committee, Diabetes Task Force
Presentations and other activities include CAP vs Joint Commission Regulation Roundtable for Roche (2002), Day in the Life of a Point-of-Care Coordinator for ITC (2009), Special Awards Judge for AACC at International Science and Engineering Fair (2008), AACC POCC Afterglow Organizing Committee (2011), American Heart Association Walk Team Member (2009 to present)
Karen enjoys spending spare time with her husband, Kevin, and their three kitty cats.