Najwa Adlan Named 2014 POCC of the Year!
15th Recipient is the First International POCC to Receive Award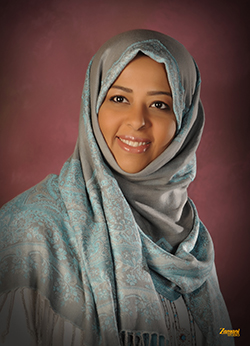 Najwa Adlan, CPHHA(AIHQ), POCC(AACC) was born in Jeddah/Saudi. She is a bechelor's degree graduate from King Saud University in Riyadh/Saudi. She is a Certified MT Specialist from Saudi Commission for Healthcare Specialties; finished "POCT Management Course" from Greenwich University/UK, In addition; she is a Certified Trainer & Certified Personal Coach.
She Joined POCT Section under Department of Pathology & Laboratory Medicine. in King Faisal Specialist Hospital & Research Center- Riyadh (KFSHRC) in March 2003. Her leadership and dedication towards her work was rewarded by promoting her as senior POCT Coordinator 2007, then POCT Supervisor 2013.
Najwa has a great passion in the field. She always seeks improvement of POCT practices through continuous enhancement of processes. She believes that the success of POCT program in KFSHRC is a result of the supportive environment and the successful collaboration between POCT team and "Magnet accredited" nursing in KFSHRC and other departments.
She is considered a resource for fellow POCC in the region. She was a member of the organizing committee of the 1st POCT workshop in KFSHRC then she was the steering member in the organizing committee in 2nd and 3rd POCT Symposium held in KFSHRC/Riyadh 2010/2013. She masterminded the launch of POCT-Arabia website. Hence, she made her way into becoming a reference in how to interpret and apply CAP/JCIA Standards.
Her continuous effort has no borders as she participated locally, nationally and internationally in a variety of topics around POCT in conferences such as Dubai/UEA and Johanesberg/South Africa.
She was CAP inspector for various organizations in the region and was accepted as a surveyor for Central Board for Accreditation of Healthcare Institutions (CBAHI) in Saudi Arabia.
Najwa is a mother of two boys, Abdulkareem & Ahmad, her greatest joy is spending time with family. She enjoys traveling and attending/giving personal development training.