An Overview of POCT
The first meeting of the Tri-State POC Network serving Illinois, Indiana and Michigan took place at the Marriott Courtyard in Merrillville, Indiana on Wednesday, November 14, 2001 from 8:30AM to 3:00 PM.
57 registered healthcare professionals, as well as representatives from the program sponsors: Careside, Inc., Fisher, Ryan Diagnostics for HemoCue, and Medical Automation Systems (MAS) attended the meeting.
The meeting commenced with opening remarks and the introduction of the core group by Darlene Sobucki, founder of the Tri-State POC Network. Members of the core group include:
Wendy Denk, Ingalls Hospital, Harvey, IL

Theresa Kulik, Advocate Lutheran General Hospital, Park Ridge, IL

David Noah, Palos Community Hospital, Palos Heights, IL

Gil Salas, University of Illinois Medical Center, Chicago, IL

Darlene Sobucki, Advocate Trinity Hospital, Chicago, IL and also Advocate South Suburban Hospital, Hazel Crest, IL
---
The first speaker for the inaugural meeting was Marcy Anderson, MT (ASCP) with Medical Automation Systems. Her topic, "An Overview of POCT", kept everyone attentive and interactive through the use of a Power Point presentation and various props scattered throughout the audience.
Using such items as a squirt guns, lollipops, and aspirins, Marcy asked the "owners" of these objects to tell stories or incidents of how these articles related to the presentation's bullet points (such as "all responsibility and no authority" – squirt guns; "competencies" – bribing with lollipops; and "regulatory compliance" – aspirins).
Marcy concluded the presentation with areas of up and coming POCT and where coordinators may get more information (use of web sites like Point of Care.net, Journals and active POCC groups such as this one).
During breaks and lunch, participants were able to network as well as visit with the sponsors at the various vender exhibits.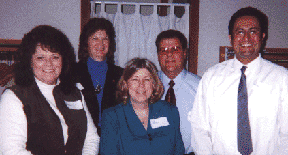 Tri-State Core members are all smiles at the group's first meeting. Shown (from left to right are) Darlene Sobucki, Wendy Denk, Theresa Kulik, David Noah and Gil Salas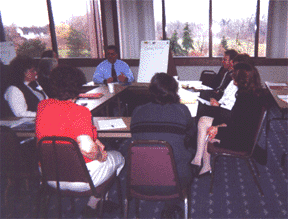 One of the four round table discussions which was held during the afternoon session of the meeting.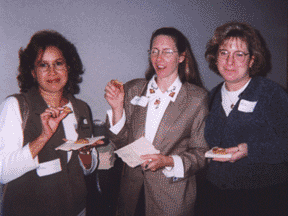 Several attendees enjoying the refreshments and some conversation during the afternoon break.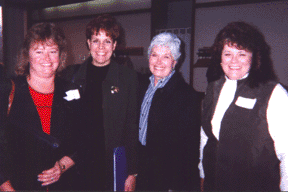 Darlene Sobucki (far right) founder of the Tri-State POC Network, with attendees Debbie Yineman, Kim Skala, and Shirley Frasca.
---
Guest Speaker, Adrienne Malta, MT (ASCP)
The Guest Speaker was Adrienne Malta, MT (ASCP) from CAP (college of American Pathologists). Her presentation "Accreditation Requirements for Quality Testing" prompted audience participation without the need for any props.
Adrienne's presentation touched on all requirements (Quality Control, Proficiency Testing, Procedural Manuals, Competency, Safety, etc). Items such as frequency of QC for sequestered lots of electronic simulators, comparison of multiple instruments/methods, notification/documentation of critical results, and reagent labeling requirements sparked conversations (Validate shipments of sequestered lots of electronic simulators; need to use patient specimens to assure matrix effects are met; critical results need to be documented with time, date, who notified and testing personnel; and labeling requirements have changed that date received and opened are no longer required but the expiration date if required once opened, needs to be clearly written on the vial).
Adrienne also spoke on new and emerging POC technology and the CAP requirements for these technologies. Some of the new tests are currently not on the checklists but CAO are actively working on including them in future checklists.
During the Vendor Exhibit portion of the agenda, Warren Wermager from Careside, Inc demonstrated the Careside Analyzer, a 41 Chemical test analyzer of moderate complexity
---
Following lunch, the group participated in 4 round-table discussions (Competency, Connectivity, Regulatory, QA/QI) giving the participants the opportunity to share experiences, practices and ideas. Highlights from these discussions include:
Competency
| | |
| --- | --- |
| Problem areas: | Agency personnel, new hires, staffing changes |
| Who/Where keeps competencies: | Initial in lab, others in HR |
| How to perform competencies: | Utilize quiz, checklists, all day fairs, and computer lockout |
Connectivity
| | |
| --- | --- |
| Pros: | Ease of billing, bi-directional information transfer, manager's competencies |
| Cons: | Problems with interface with different vendors |
| Future: | Wireless technology |
Regulatory
| | |
| --- | --- |
| General Issues: | Need an active POC committee and support from all |
| Documentation issues: | Doctors, PPM, tissue storage/transportation |
QA/QI
| | |
| --- | --- |
| QI: | Chart reviews, trend MR# & OP ID#, follow up on critical results |
| QA: | Supplies go to lab for disbursement, copy Nursing Administrator on QI reports, follow up on QI reports, use bar codes when possible |
---
Before the meeting adjourned, the survey questionnaires were tallied and topics for future meetings voted upon by the participants. Results were:
Meetings will be held every 4 months

Meetings

will be held on Wednesdays

The invitations will be mailed as well as appear on Point of Care.net

The location will remain in Merrillville (Northwest Indiana) although the facility may change

Future topics (order will be dependant on availability of speakers):

Statistical interpretation

Nursing perspectives

Reimbursement and Billing

Format to remain the same, speakers in the AM and round-tables after lunch. Round-table discussions will coordinate with the topic presented in the AM with multiple groups discussing the same topic.

E Mail addresses and phone numbers to be added to attendee roster.

It was also requested by some members that Ohio be included in our group. Beginning with the next meeting, invitations will include our counterparts in Ohio.
The meeting adjourned at 3:00 PM
---
The Tri-State POC Network wishes to thank Careside, Ryan Diagnostics (representing HemoCue), Fisher Healthcare and Medical Automation Systems for sponsoring this meeting and showcasing their point-of-care products.
---
Please watch this web site for information regarding the next meeting, which is slated for Mid April.