What do POCCs, a Fire Station
and Dr. Seuss Have in Common?

If you were at the March 27
KEYPOCC meeting you'd know!
Business Meeting I Feature Presentation I Roundtable Discussions
More than 30 POCCs turned out for a day of networking, education and story time. Yes story time. More on that later.

Business Meeting



KEYPOCC president Cindy Graves began the March 27 meeting at the Lafayette Fire station in Lancaster, PA with a business meeting that included a discussion on KEYPOCC Grant Awards. KEYPOCC awards two grants each year in June in honor of two members with The Wendy VanDyke Memorial Grant and The Bill Sweger Memorial Grant.
The grants are based upon specific standards established by the committee and are open to any individual seeking education as a clinical laboratory scientist. The deadline for application submission is June 30, 2013 and each applicant will learn of the Grant Committee's decisions by September 30.

Upcoming KEYPOCC meetings include:
June 7- Gettysburg Hospital, Gettysburg, PA

September 12- Evangelical Community Hospital, Lewisburg, PA

December 11 webinar- Jim Nichols discussing Practical Tips for POCT
Although some speaker topics have been chosen for upcoming meetings, suggestions are always welcome! Please contact any KEYPOCC officer with ideas or topics!

Also mentioned was the need for KEYPOCC members to consider hosting an upcoming meeting. In order to keep meeting expenses down, keep registration fees/membership fees well below average, and keep scholarship funding available, KEYPOCC needs access to affordable meeting room space. Hosting a meeting is easy and KEYPOCC officers will help! Contact any KEYPOCC officers for more information.

Cindy also mentioned that written nominations for KEYPOCC officers will be taken at the September meeting. Nominations for President, Vice President, Treasurer and Secretary can also be submitted to any board member via email. Elections will be held in November and results will be announced during the December webinar.

Feature Presentation



Tracey-Lynn Aust, administrative manager of education services at WellSpan Health led a spirited and interactive discussion on 'Leadership and Ethics: Lessons from Dr. Seuss'.

Tracey-Lynn took attendees on a fun-filled journey of self-discovery, leadership and ethics using the wacky stories of Dr. Seuss. The session combined fun, small group discussions and food for thought as attendees reviewed and discovered what it takes to be an ethically sound leader in tough economic times and a decade fraught with ethical dilemmas.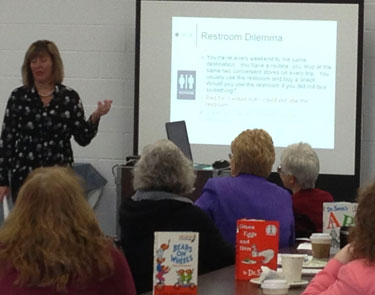 Some of the ethics questions included a number of 'Would You Could You?' times such as:
Would you buy a cheap ticket to a baseball game, then 'sneak' down to the more expensive seats?

Buy a fancy gown for an event, have it dry cleaned, and then return it
The group also discussed:
What things might be ethical, but not legal?

What things are not ethical but are legal?
Tracey-Lynn also read to the group from "The Sneetches and other Stories."

Following this presentation, attendees got to have time over lunch visiting with vendors who participated in the vendor fair, including Abbott Diabetes Care, Abbott Point of Care, Alere, Alere Informatics, Beckman-Coulter, HemoCue, ITC and Roche Diagnostics.

Roundtable Discussions



Following lunch, Cindy Graves led an open discussion on today's hot topics in POCT. Among the topics discussed, were:
Diploma requirements for non-waived testing

Handling annual competency requirements

Strategies and thoughts on new glucose meter implementation
All in all it was a fun and thought-provoking day. Thanks go out to the KEYPOCC board, Cindy Graves, Adonica Wilson, Terry Hawkins and Melanie Reifsteck for hosting the meeting and for the time they took to put together a great program.
---
Tracey-Lynn Aust, MBA- Ms. Aust is the Administrative Manager of Education Services for WellSpan Health. Her education includes Bachelor of Science degree in Sociology with a minor in Psychology and a Master of Business degree with a concentration in Human Resources. Ms. Aust has worked for WellSpan Health for over 20 years.
---