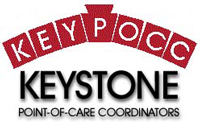 Membership Form
Updated February 2017
Member List
Member & Contact List
(Updated 12/12/17)
Want to be added to the KEYPOCC website and/or email list or have a change to your listing?
Vendor Sponsors
Updated February 2017
Director Minutes
KEYPOCC News & Updates
2021 Officers

President:
Jeanne Mumford, MT(ASCP)
Johns Hopkins Medicine
Baltimore, MD

|

Email
Vice President:
Mickayla Karikari
POCC/QA Technologist
Johns Hopkins Hospital
Secretary:
Lilah Evans, MT(ASCP) Thomas Jefferson University Hospital Philadelphia, PA| Email
Treasurer:
Zechariah (Zach) Fortuna
Global Marketing Specialist
Abbott, Charlottesville, VA | Email

Board Meeting for KEYPOCC Members Coming Soon!
Watch your Email for date and time.

Scholarship Committee Chair:
Meaghan Quinn, MLS (ASCP)
Point of Care Coordinator
Alfred I DuPont Hospital
for Children
Join Us This December!
We're hosting a Whitehat Webinar!
Evaluation of
Point-of-Care and Rapid Tests for COVID-19:
The Mayo Clinic Experience

Brad S. Karon, MD PhD Professor of Laboratory Medicine and Pathology Chair,
Division of Clinical Core Laboratory Services Mayo Clinic, Rochester MN

Join us on
Thursday, December 2, 2021
12:00 -2:00pm
KEYPOCC Gives Back!
Seeking education
as a clinical scientist?

Check out our...

Bill Sweger and
Wendy Vandyke
Memorial Awards!
About KEYPOCC:

One of the longest running POC Groups in the country, the purpose of the Pennsylvania-based KEYPOCC group is to form a collaborative network of point-of-care coordinators with a willingness to share information, ideas, and creative solutions to the unique challenges presented by the growth of point-of-care testing (POCT).
More >
Past Meetings and Webinars

2019

2018

2017

2016

2015

2014

2013

2012

2011

2010

2009

2008

2007

2006

2005

2004

2003

2002

2001

2000