We have received terrific responses from so many people who want to hear from KEYPOCC about upcoming events and other information. Thank you to all of you who have responded! We are working hard to ensure everyone is able to receive emails from the KEYPOCC mailing list.
If you've had trouble receiving emails from KEYPOCC before, or if you hadn't heard about our meetings in a while, you may need to contact your IT department and request that emails from KEYPOCC be "Whitelisted". The sender is often:
KEYPOCC Meeting [KEYPOCC_Meeting@mail.vresp.com] or

KEYPOCC eNews [KEYPOCC_eNews@mail.vresp.com]
Want to be added to the KEYPOCC website and/or email list or have a change to your listing?
SAVE THE DATE! Thursday December 7, 2017
8:30 AM–5:00 PM | Hilton Baltimore | Baltimore, MD
This one-day hands-on program will feature presentations and interactive activities for Point-of-Care Testing professionals to successfully communicate, connect, and collaborate in any patient care setting. Take home knowledge and tools you can apply right away, such as:
Building multi-channel communication between POCT operators, training staff, and the lab

Coaching POCT operators to perform tests with accuracy

Preparing staff for inspections and compliance with regulations

Reinforcing understanding and retention of POCT training and procedures
Register now!
www.aacc.org/POCTcamp17
We hope to see many KEYPOCC members and attendees at the Boot Camp and Beyond meeting!
KEYPOCC
Grants Awarded
---
Caitlin Pizzaro
Receives 2017 Bill Sweger Memorial Grant
In July, KEYPOCC President Jeanne Mumford, below right, presented a $500.00 check to Caitlin Pizzaro, a Junior at Stevenson University's MLS program in Stevenson, MD, below right, for the Bill Sweger Memorial Grant from the Keystone Point of Care Coordinators.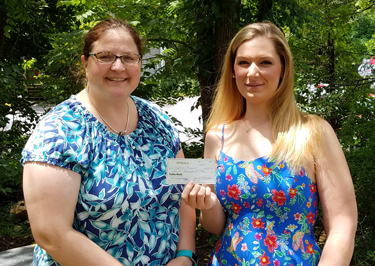 ---
Vidusha Udayalal Receives
2017 Wendy VanDyke Memorial Grant
Vidusha Udayalal, a Senior at York College of Pennsylvania's MLS Program in York, Pennsylvania
was presented the Wendy VanDyke Memorial Grant from the Keystone Point of Care Coordinators.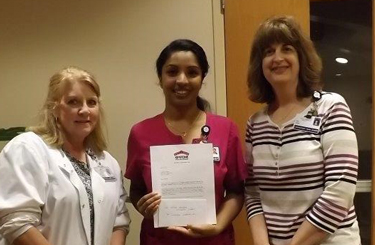 Vidusha Udayalal (center) accepts the Wendy VanDyke Memorial Grant from Wellspan Gettysburg Hospital's Cindy Graves (left) and Lisa Hoke (right).
2017 Event Information
---
September 21, 2017
Blue Ball Barn
Alapocas Run State Park
Wilmington, DE
---
December 7, 2017
AACC Full-Day Meeting
Point-of-Care Testing
Boot Camp and Beyond:
Communicating, Connecting
and Collaborating
Hilton Baltimore Inner Harbor
---
December 12, 2017
Whitehat Webinar | 1:00pm | More
---
Featured Topics from our
June 16, 2016 Meeting:
Click on an image above or below to download slides
Presented by
Jeanne Mumford, MT(ASCP)
Pathology Supervisor, QA Specialist
Johns Hopkins Health System
---
About KEYPOCC
The purpose of the Pennsylvania-based KEYPOCC group is to form a collaborative network of point-of-care coordinators with a willingness to share information, ideas, and creative solutions to the unique challenges presented by the growth of point-of-care testing (POCT). More >