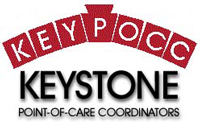 Membership Form
Updated February 2017
Member List
Member & Contact List
(Updated 06/09/22)
Want to be added to the KEYPOCC website and/or email list or have a change to your listing?
Vendor Sponsors
Updated September 2022
Director Minutes
May 20, 2022 Meeting
KEYPOCC News & Updates
2023 Officers

President:
Jeanne Mumford, MT(ASCP)
Johns Hopkins Medicine
Baltimore, MD | Email

Vice President:
Mickayla Karikari, MHA, MLS(ASCP)CM
Johns Hopkins Community Physicians, Baltimore, MD

Secretary:
Lilah Evans, MT(ASCP) Thomas Jefferson Hospital Philadelphia, PA| Email

Treasurer:
Meghan Quinn, Nemours Children's Health, Wilmington, DE
2023 Meeting and Webinar Schedule
On-Site Meeting
June 22, 2023
Johns Hopkins Miller Research Building
Baltimore, MD
Leadership and Management Skills
(+an ECMO presentation from Hopkins providers)
In 2023, KEYPOCC is going to build on leadership skills for our June meeting this year. We have a new goal to continue to offer a management and leadership skills meeting/content to our annual schedule. After our fall meeting 2022 success, it is apparent that we are all appreciative of these soft skills.
For June, specifically, we have picked a speaker, MaryBeth Hyland of SparkVision. MaryBeth offers a Mindful Leadership Workshop that "creates opportunities for team members to increase their emotional intelligence, self-awareness, and power skills so that they can take care of themselves and their people in the face of adversity or stress.".
We will also have a talk on 'The Importance of POCT for Patients with Extracorporeal and Paracorporeal Support in Cardiac Surgery' presented Isaac Chinnappan, MS, CCP, LCP, CPBMT, CPBMS, CES-A, FPP, FAACP.
*******************************************************************************
On-Site Meeting
October 27, 2023 | York, PA | Location TBD
Proficiency Testing:
Recent Changes, Important Dos and Don'ts
and How to Get the Most Out of PT

Description:
CLIA requires all laboratories performing non-waived tests to participate in a CMS approved proficiency testing program. Proficiency testing (PT) is an important external quality assessment indicator used to verify the accuracy and reliability of a lab's testing. In this session we will review important details to be aware of when it comes to PT as well as discuss key changes that CMS is implementing. Lastly, we will discuss benefits of PT and how to get the most out of your proficiency testing program.

Objectives:
Summarize what proficiency testing is and why it is important.
Review important DOs' and DON'T" s when it comes to proficiency testing.
Understand key changes being implemented by CMS regarding proficiency testing as outlined in 42 CFR Part 493.
Speaker: Milly Keeler BS MLS (ASCP), CLC (AMT), CCCP ®
CLIA Specialist/DoctorsManagement, LLC, Principal/Keeler Laboratory Consulting, LLC
milly@keelerlabconsulting.com
*******************************************************************************
IVD Design and Development Before,
During, and Following a Global Pandemic
Description:
In this session, from an upstream marketing perspective, we'll explore practical applications of IVD device design and development before and during the global pandemic, and make forward looking predictions on how models for future product development may change as a result.
Speakers: Richard Noel
Marketing Director, North America, LumiraDx
richard.noel@lumiradx.com

*******************************************************************************
Whitehat Webinar
December 7, 2023

"A Potpourri of Coagulation Cases"
Donna D. Castellone, MS, MASCP, MT(ASCP), SH

KEYPOCC Gives Back!
Seeking education
as a clinical scientist?

Check out our...

Bill Sweger and
Wendy Vandyke
Memorial Awards!

Scholarship Committee Chair:
Meaghan Quinn, MLS (ASCP), Point of Care Coordinator
Alfred I DuPont Hospital for Children
About KEYPOCC:

One of the longest running POC Groups in the country, the purpose of the Pennsylvania-based KEYPOCC group is to form a collaborative network of point-of-care coordinators with a willingness to share information, ideas, and creative solutions to the unique challenges presented by the growth of point-of-care testing (POCT).
More >
Past Meetings and Webinars

2019

2018

2017

2016

2015

2014

2013

2012

2011

2010

2009

2008

2007

2006

2005

2004

2003

2002

2001

2000