2018 Officers

President:

Jeanne Mumford, MT(ASCP)

Johns Hopkins

Medicine

Baltimore, MD | Email

Vice President:

Kelly Cordell, MT(ASCP),

POCS (AACC)

Health Network Laboratories

Allentown, PA | Email

Secretary:

Lilah Evans, MT(ASCP)

Thomas Jefferson

University Hospital

Philadelphia, PA| Email

Treasurer:

Tiffany Huntley, MT(ASCP)
Alfred I duPont
Hospital for Children
Wilmington, DE | Email
SAVE THE DATE!
Our Next Meeting is June 14
at Kings Contrivance Community Association Amherst House, Huntington Room
7251 Eden Brook Drive, Columbia, MD 21046
Network with your peers and join us for this Meeting
Clinical

Mass

Spectrometry

for Beginners

100% Connectivity

in Point of Care Testing is Achievable

Waived and
non-waived

FDA clearance process of POCT

Vendor Sponsors

Showcase your company's products and share your expertise by sponsoring a table

or a speaker

William Clarke

PhD, MBA, DABCC
The Johns Hopkins University School of Medicine

Christiane Nooney MHA/MBA, MT(AMT)

POC Specialist (AACC)

Laboratory Supervisor

Duke POCT Program

Speaker

details to come
Additional details coming soon!
KEYPOCC
Grants Awarded
---
Caitlin Pizzaro
Receives 2017 Bill Sweger Memorial Grant
In July, KEYPOCC President Jeanne Mumford, below right, presented a $500.00 check to Caitlin Pizzaro, a Junior at Stevenson University's MLS program in Stevenson, MD, below right, for the Bill Sweger Memorial Grant from the Keystone Point of Care Coordinators.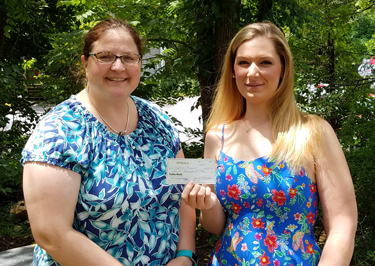 ---
Vidusha Udayalal Receives
2017 Wendy VanDyke Memorial Grant
Vidusha Udayalal, a Senior at York College of Pennsylvania's MLS Program in York, Pennsylvania
was presented the Wendy VanDyke Memorial Grant from the Keystone Point of Care Coordinators.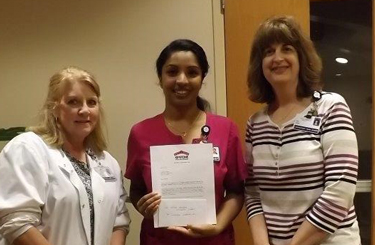 Vidusha Udayalal (center) accepts the Wendy VanDyke Memorial Grant from Wellspan Gettysburg Hospital's Cindy Graves (left) and Lisa Hoke (right).
Check out...
Past KEYPOCC Events and POCT Events in General...
Click on the image above to view or download slides
---
In Case You Missed It!
Check out our December 12 Webinar on ACTs...
Click on the image above to view or download slides
Click here to visit the Whitehat website to listen to the audio
---
KEYPOCC Scholarships
KEYPOCC awards educational grants each year in June. The Wendy VanDyke and the Bill Sweger Memorial Grants are open to any individual seeking education as a clinical scientist. Grants are based upon specific standards established by the KEYPOCC Grant Committee. The recipient selection process begins in January and the deadline for submission is April 30. Each applicant will learn of the Grant Committee's decisions by May 31. Click here for a Grant Application.
About KEYPOCC
The purpose of the Pennsylvania-based KEYPOCC group is to form a collaborative network of point-of-care coordinators with a willingness to share information, ideas, and creative solutions to the unique challenges presented by the growth of point-of-care testing (POCT). More >