Members Present:
Jeanne Mumford
Lilah Evans
General KEYPOCC Assembly
Business:
SUGGESTIONS FOR FUTURE MEETINGS
We are looking for locations for next year's meetings (Wilmington, Baltimore, Western PA???)
Interested in hosting a meeting? Email Lilah or Jeanne!
KEYPOCC BOARD OF DIRECTORS VACANCIES
Help us keep this organization going strong!
We are currently looking for a Vice-President and a Treasurer.
Board Members attend meetings for free. Email Lilah or Jeanne to volunteer!
KEYPOCC CURRENT STATS
Membership numbers 8 members to date (Update: 6 new members after June's meeting!)
Finances: currently approx. $11,750.00
Taxes were completed for 2018
Scholarships awarded

Bill Sweger Memorial Grant Recipient: Lindsey Edger
Penn State University
Wendy Vandyke Memorial Grant Recipient: Kaitlyn White
Penn State University
NON-KEYPOCC MEETING
NEXT KEYPOCC MEETING
Meeting adjourned at 1:30 PM
Meeting Minutes respectfully submitted by
Lilah Evans
Speakers and Topics:

KEYPOCC President Jeanne Mumford from Johns Hopkins opened the meeting and also led a discussion on "Reducing Human Errors in Point of Care Testing through Performance Improvement and Measuring Quality Indicators"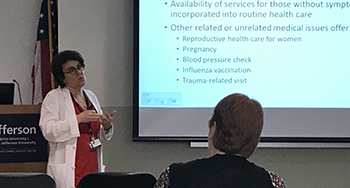 Lisa A Spacek MD, PhD, Jefferson University Physician, Associate Professor, Director, HIV Ambulatory Care Program, presented an intersting talk on 'POCT for HIV Screening'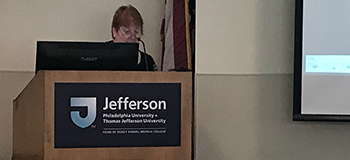 Kathleen David, the 2019 POCC of the Year,
joined us from TriCore Labs in New Mexico
to lead an interactive discussion on
"CAP Is Coming...What Do I Do Now?"