RAPIDLab® 1200 Systems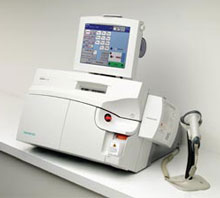 Perfect choice for medium to high workload environments

Uniquely designed to maximize turnaround time, RAPIDLab 1200 Systems have the capacity to enhance blood gas testing efficiency in the clinical laboratory by combining testing speed and reliability with low maintenance.
Leverage the unique benefits of RAPIDLab 1200 Systems:
Comprehensive test menu addresses all your critical care testing needs

Intuitive operation and minimal maintenance increase productivity, without increasing staff workload

Industry-proven accuracy and reliability through long-life Ready Sensor® electrode technology

Biosafe automatic sampling system with clot detection and clearance
Effortless, on-board Automatic Quality Control (AQC) for enhanced quality assurance and regulatory compliance
---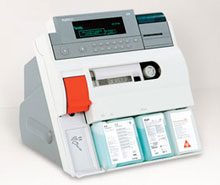 RAPIDLab® 248/348 Systems
Efficiency and Value from Compact, Easy-to-Use Blood Gas Systems
Critical care testing solution for lower volume sites:
RAPIDLab 248/348 Systems fully automated design readily delivers fast, reliable blood gas results

Compact design fits anywhere, and saves valuable space in decentralized or core laboratory settings

Requires only minutes of maintenance per week with long-life Ready Sensor® electrodes

RAPIDLab Systems' connectivity features facilitate remote control and monitoring via the RAPIDComm® Data Management System
---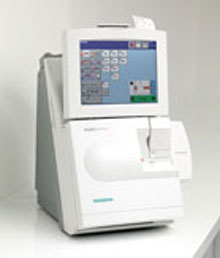 RAPIDPoint® 400/405 Systems
Point-of-care efficiency with central lab accuracy
Immediate test results mean quicker decisions for earlier treatment. With our RAPIDPoint 400/405 Systems you receive the same benefits of speed, operator safety, and proven reliability that make our high-volume RAPIDLab Systems so popular.
Why POC testing with RAPIDPoint Systems can make all the difference:
Test menu includes blood gas, electrolytes, glucose, hematocrit and full CO-oximetry from a single sample

Intuitive maintenance-free operation produces consistent results even with non-laboratory personnel

Biosafe automatic sampling system with clot detection and clearance

Maintenance-free cartridge-based system
---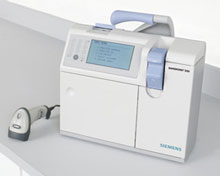 RAPIDPoint® 340/350 Blood Gas Systems
Designed with simplicity, efficiency and value in mind
The RAPIDPoint 340/350 Blood Gas Systems deliver critical patient results quickly and simply, with minimal operator interaction. Low-to-medium volume testing sites can experience fast turnaround of patient samples with proven test results, allowing clinicians to implement patient therapy at the earliest possible stage.
Simple and efficient operation

Reliable, low-maintenance technology

Fast test results

Flexible sampling options including dialysate fluid testing

System connectivity with your laboratory information system
Critical patient results are needed in the laboratory as well as the OR, ER, ICU, critical care units and other hospital testing locations. The portable RAPIDPoint 340/350 Blood Gas Systems provide test data quickly with minimal operator interaction.
---
DCA Vantage® Analyzer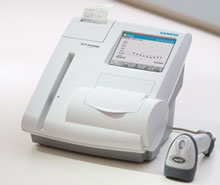 Deliver Optimal Diabetes Care with Clinical Confidence
Drive diabetes patient compliance using the DCA Vantage Analyzer with clinically proven HbA1c1, Albumin and Creatinine tests and Albumin-to-Creatinine (A:C) ratio results. Simple enough to use in your office or clinic, and yet powerful enough to deliver lab-quality performance at the point of care.
Only 1uL of whole blood needed for HbA1c testing

HbA1c results in 6 minutes. Receive actionable results during the patient visit reducing follow-up time and increasing diabetes patient compliance

Microalbumin testing allows for early detection of kidney disease – results available in 7 minutes

No sample or reagent preparation needed allowing for simple and efficient operation

Printed patient records and electronic transmission to LIS or electronic medical record allows for reduced transcription errors

Trending graphs enable more comprehensive patient disease management
The analyzer leverages robust technology and delivers the proven performance of the DCA HbA1c and DCA Microalbumin/Creatinine tests highlighted in over 100 clinical articles. Provide the clinical confidence you and your patients deserve by adopting the DCA Vantage system, the analyzer used by three out of four physicians who perform HbA1c testing in their office.
---
Stratus® CS Acute Care™ Diagnostic System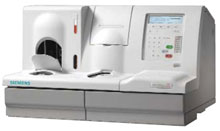 The Stratus® CS Analyzer for acute care diagnostics provides quantitative cardiac assays for fast, cost-effective evaluation of patients presenting with suspected myocardial ischemia. Its efficiency and ease of use make it ideal for both point-of-care testing and lab applications.
Easy to use and ideal for all skill levels

Complete cardiac menu

Results in as little as 14 minutes

Use in the acute care setting to decrease TAT, patient length of stay, and total patient costs
---
CLINITEK Status® Connect System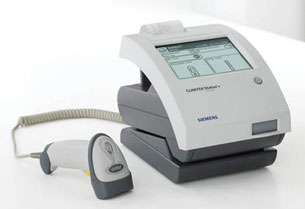 Need more control over your point-of-care urinalysis testing process?
The CLINITEK Status® Connect System brings connectivity and testing oversight to point-of-care urinalysis for improved risk management.
Offers flexible connectivity solutions by integrating data directly to the LIS, EMR or via point-of-care data management software solutions

Provides improved POC testing workflow efficiencies when interfaced to leading data management solutions

Improves risk management through advanced operator control functions, prevents unauthorized use

Drives compliance across testing sites with programmable QC protocols and QC lock-out

Improves quality and accuracy of results, with new Auto-Checks* and barcode data entry

CLIA-waived
---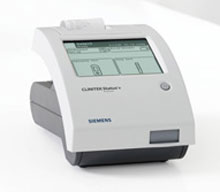 CLINITEK Status®+ Analyzer
Need simple, enhanced clinical information for urinalysis results?

The new CLINITEK Status+ Analyzer features new automatic checks (Auto-Checks*). The analyzer automatically checks each test strip for humidity exposure and identifies Siemens test strips. Together, these provide improved clinical information.
Enhances confidence in clinical decisions with new automated checks (Auto-Checks) performed on every test

Ensures consistent results interpretation with automatic timing and reading of every urine specimen

Ready for connectivity to data management solutions (DMS), via a simple upgrade kit

Offers a comprehensive point-of-care urinalysis menu for routine testing, detection of early kidney disease and hCG pregnancy testing

CLIA-waived
---
CLINITEK Advantus™ Analyzer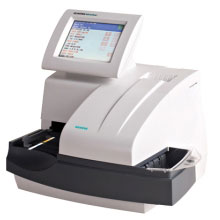 Greater Flexibility, Proven Reliability
Respond to demands for higher productivity and high quality with the newest addition to the Clinitek family, the Clinitek Advantus analyzer. Streamline your workflow with flexible operation. Immediate start-up. Automatic calibration. Network ready. Widest range of test options. Added QC features. Flexible operation to meet your needs.
---
Multistix® 10 SG Reagent Strips
Multistix® 10 SG Urinalysis Strips


Negative Means Negative: The Reliable Choice for Urinary Tract Infection (UTI) Detection at the Front Line. A multi-center study was conducted to identify patients with potential UTIs. There were 1,887 urine specimens tested comparing the leukocyte and nitrite results of Multistix 10 SG urinalysis strips to urine culture.

Multistix PRO® Reagent Strips
Multistix® PRO 10 LS Urinalysis Strips


Protein-to-creatinine ratio is key to earlier detection of Kidney Disease. Find out which of your patients is heading for Early Kidney Disease.

CLINITEK® Microalbumin Reagent Strips

A dip-and-read urinalysis product available for the CLINITEK® 50 and CLINITEK Status® Analyzers


CLINITEK® Microalbumin Strips* provide albumin, creatinine and albumin-to-creatinine ratio results in one minute. The CLINITEK® Microalbumin product is useful to test for microalbuminuria in patients with diabetes or hypertension in order to detect early kidney disease.
---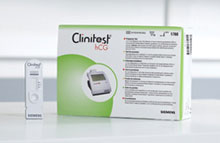 Clinitest® hCG Pregnancy Test
Stop reading between the lines and start using Clinitest® hCG - Now CLIA-waived

Fast, reliable hCG testing with no baby-sitting... Pregnancy testing just became simpler and more reliable with the Clinitest hCG Test cassette for use with the Clinitek Status® Analyzer. The Clinitest hCG pregnancy test gives you fast, easy instrument-read-and-reported test results — taking the question out of results and the interpretation out of your hands. Just apply the patient's sample and let your Clinitek Status® Analyzer do the rest.
---
RAPIDComm® Data Management System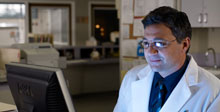 Take control of your Siemens blood gas and urine testing systems

The RAPIDComm Data Management System allows centralized management of multiple Siemens blood gas and urine analyzers and operators, to standardize testing procedures, facilitate compliance and improve risk management.
Limit access to trained and authorized users; remotely lock-out users or adjust access levels

Electronically transmit patient and QC data, and generate customized reports eliminating manual data handling

Standardize test protocols and drive QC testing remotely

Maximize analyzer up-time through remote monitoring, event log monitoring and real-time troubleshooting

Connect multiple Siemens blood gas and urinalysis analyzers through a single interface to the LIS / HIS system to reduce connectivity expenses